LIBERIA: L$350K Fine Is a Slap on the Wrist for Soltiamon School-Girl Beating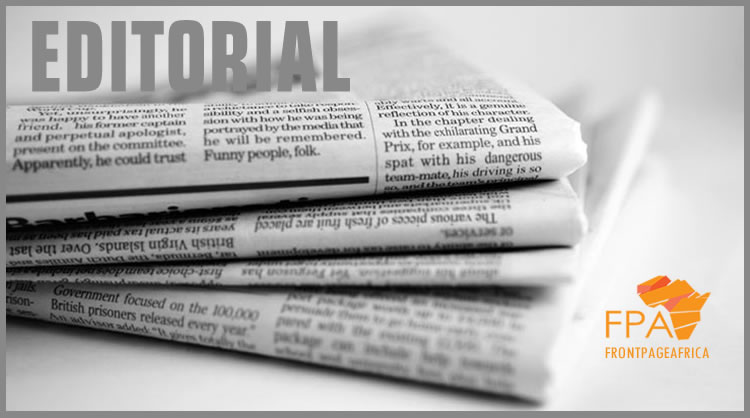 WHEN A 16-YEAR-OLD 10th-grade student sustained noticeable bodily injuries at the Soltiamon Christian School as a result of the brutal beating she received from the Dean of Students Affairs, simply because she had reportedly left her class to borrow sanitary pad from a friend in a classroom next door, it marked the latest in a long list of stone-age practices turning heads in Liberia.
WHAT IS EVEN MORE troubling is the lack of genuine remorse from the school administrators following the incident which has taken social media by storm with many still trying to decipher why the School's Dean of Student Affairs, Solomon Joah Jr., decided to take matters in his own hands.
ON THE ONE HAND, Mr. Joah, when contacted by FrontPageAfrica to explain why he decided to reprimand the student in such an inhumane way, expressed regrets: "The case in question of one of my students is regrettable and unprecedented but least we note that never had any student in our school been given lashes that would inflict pain on them or cause grievous wounds. It was quite unfortunate that what supposed to be an acceptable minimal disciplinary action meted out to the student turned out to be a violation that I personally regret as a father of so many children."
MR. SOLOMON JOAH, Sr., the proprietor of the school sought to justify the beating of the student, days later when he contradicted his son's explanation, describing the student Mary Paul (not real name), who was flogged by, Solomon Joah Jr. as "a rude student" who always violated the rules of the school. "He was justly disciplining a rude student who has always violated the rules of the school."
MR. JOAH, while offering a somewhat lame version of an expression of regret, would later tell FrontPageAfrica that the student was flogged after she was caught violating the school's rules as she usually does. "Instead of coming out with the approved document (access pass), she lied in the process that she came out for her pad, her feminine pad and such warrants some discipline," he added.
WHAT WE WOULD LIKE to know is, how in the world did two male authorities at the school determine that a female student was lying about her pads? Did they pull down her pants, lift up her skirt just to see whether or not she was lying?
IN THIS MODERN day and time when abuse of women, young girls and boys is at an all-time high, and when many countries around the world are adopting measures to deal with such flagrant abuses, Liberia finds itself warped in a twilight zone, where perpetrators of abuse are being protected by a recurring state of impunity all because there is no proper compliance with the rule of law and anyone can take the laws into their own hands, simply because they feel that they can get away with it.
SADLY, MR. JOAH, JR, who claims that he is a devoted Christian, a father, husband, brother and cheerful giver, may never see the inside of a courtroom. The Ministry of Education has slapped an LD350,000 fine on the school without stating how it plans to deal with the trauma and post-incident dilemma which may have scarred the victim for life.
FROM WHAT WE HAVE gathered, this is not the first time, the school has been engulfed in matters of controversy.
LAST DECEMBER, a parent took the school to task over the slow pace of an investigation into allegations that her son had consumed drugs through ice cream on the campus.
THE PARENT, WHO preferred anonymity to protect her son's identity, said the school was mute about getting to the bottom of what kind of drugs her son may have consumed through the ice cream.
THE PARENT SAID, her son went to school and felt ill, was rushed to the hospital and was diagnosed by a doctor who said he had taken in a strange substance. "The school told me to take him to the hospital and I did while there I asked him if he took in anything because the doctor told me he took in strange things. He said one of his colleagues give him something and it was in a paper when he took it, he slept for long. My son said the paper was given to him by one of the students and several students usually buy it from the seller who is also a student. There is a guy in our class who always bring it on campus and he can give it to other students on campus and they fool me and I realize that it was something else because when I took it, it treated me bad."
THE PARENT AND son decided to report the incident so they both planned, according to the parent and the student was reported to the disciplinary head.
MMONBEYDO HARRELL, a women's rights advocate, who also happens to be part of the family running the school, posted on Facebook last week that she supports the quest for justice in the case.
SAID HARRELL: "I wish to make it clear that while Soltiamon Christian School System is owned and operated by my family, I am an independent person with my own views and culpability for my own actions. I ask not to be tagged and questioned for the actions of another person who in this case, despite being my brother, is a full-grown adult and who have long since crossed the age of reason. I wish to use this medium to reiterate what I have said privately to colleagues who have reached out to me, 'violence is violence regardless of the perpetrator and this situation is about rights and not relationships. Hence, I condemn all forms of violence meted out against women and girls including this one. There is and should be no excuse whatsoever for any abuse."

HARRELL SAYS SHE has since reached out to the administration of the school to lend my support to put in place guidelines and monitoring and reporting mechanisms to ensure that this act never repeats. "I welcome the penalties levied by the Ministry of Education and support the decision of the family to pursue the due process of the law."
PRESCOTT DIEGO NYAHN, writing under Madam Harrell's post recalled that some years back some girls were allegedly physically abused by Harrell's husband but many advocates, feminists and lawyers kept quiet.
NYAHN WROTE: "Thank you, Ma'am!! I strongly stand against Violence in all form and condemn the incident at SCSS weeks ago! I think your advocacy is political or maybe because it's Mr. Joah Jr. We as humans, particularly Liberians don't practice what we preach and sometimes only stand for the truth because it benefits our Career! Few years back lot of girls especially Tatiana Makoura Bonimy were physically abuse by your husband Mr. Sam Harrell, how come you didn't publicly rebuke him like you doing now? Do lawyers and human right advocates only speak some truths? I am saying because you didn't stand for the other girls your husband fought and abuse , this advocacy is not necessary!"
ALL THESE REPORTS are more than sufficient to warrant a serious investigation into what has been unfolding at the school over the years.
ON BOTH SIDES of the aisle, some sympathizers and friends of the school and its staffers are going to great length to pain the abused student bad, speaking of her indiscipline and evil she is. But that does not give anyone the right to pull down a young girl's pants and give her a beating under the guide of disciplining a student.
THIS IS WRONG and unacceptable. It is generally not accepted anywhere in the world, and it should definitely not be accepted in Liberia.
LAST MARCH, HUMAN RIGHTS WATCH slammed a similar action at a school in Lebanon, where corporal punishment has been banned since 1970 but some schools are still in the practice of beating children.
ACCORDING TO THE REPORT published by HRW, corporal punishment by school staff in Lebanon include beatings with sticks, rubber hoses, and electrical cables, and cases in which so-called "discipline" spiraled into serious assault and harm. The report, entitled: "I Don't Want My Child to Be Beaten" Corporal Punishment in Lebanon's Schools, documented 51 cases of abuse taking place in both public and private schools across Lebanon.
THESE CASES, HRW SAID have led to the conclusion that the Education Ministry's ban on corporal punishment has failed to provide proper protection for students, who are constant victims of a multitude of appalling abusive practices.
THE 59-PAGE REPORT recorded a case whereby one teacher hit a boy in the face with a book, knocking out two teeth, after he asked to use the bathroom. Another boy said his teacher whipped his hand with an electrical cable, causing a deep wound that was "bleeding for a few days".
THREE OTHER STORIES have added to the horrific plethora of evidence which calls on the Education Ministry to take swift action.
ONE OF THE CASES SPOKE of a 10-year-old boy who was grabbed by the nose and yanked upwards, twice. When he returned home, his face covered in blood, his mother was left shocked.
IN NOVEMBER 2018, a teacher and a school director at a public school in the North Governorate beat a Lebanese girl whom the teacher accused of using a calculator to solve a math problem.
PERHAPS ONE OF THE most heart-breaking stories mentioned by the report is that of 12-year-old Fadi, a young boy who was diagnosed with leukemia at the age of 5. Fadi's mother, Rasha, told HRW that her son was receiving proper medical treatment while attending a private pre-school in the Baalbek-Hermel governorate. His teachers there were well aware that his treatment was weighing heavily on Fadi's ability to focus.
FADI HAS A SERIOUS medical condition, not a disability, according to his mother. But the director was open about wanting to kick him out. Fadi became the focus of the teacher in particular, who would call him a "donkey" when his headaches made it difficult for him to concentrate, and who forced Fadi to stand outside in the cold as punishment.
IN LIBERIA, it is becoming a norm to embrace and tolerate mediocrity. The truth of the matter is, no sound person born and raised by a woman would idly sit by and do or say nothing when a child is abused in the way this young girl was at the Soltiamon School.
WE MUST ALL STRIVE to forbid abuse, regardless of whatever form it comes – transcending class or ethnicity; including those ones, "socially perceived as disciplinary action". This is a tragedy that has to stop because, it may be someone else's child today; tomorrow, it may be yours.