A CLOUT OF INCOMPETENCY, SYCOPHANCY POSE RECURRING DANGERS TO LIBERIA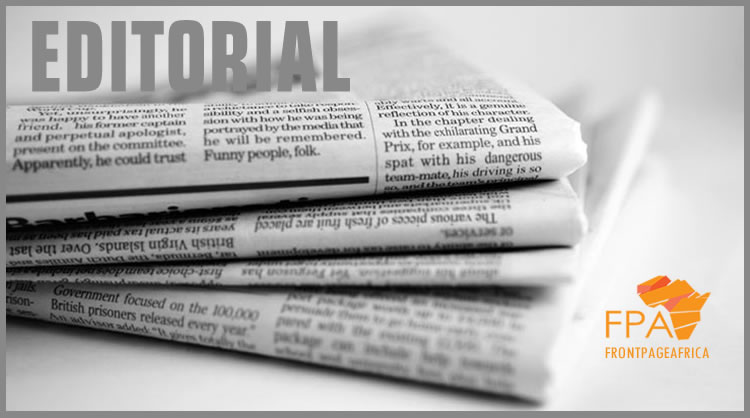 BUSINESS IS ABOUT PROFITABILITY and insurance for multinational billion-dollar companies like Coca Cola looking to break even. For any country to be taken seriously, it must have serious-minded people who are willing to go above and beyond the call of duty to ensure that its citizens reap the benefits of its resources and investment opportunities.
SADLY, IN LIBERIA, that has not been the case for quite some time now.
LEADERS PAST and present often surround themselves with close friend and family members, or make appointments based on recommendation from a friend from the past who did them favor. Experience, capability and competency are no longer values required in naming people to public office.
OFTEN TIMES, it comes down to political considerations for a hand clap on the campaign trail en-route to the presidency, sycophants lining up to sing the president's praise, some past financial favors or a bunch of people taking advantage of an inept and inexperience Samuel Doe to score access to power after a bloody coup d'etat that ended decades of Americo-Liberian rule.
IT CAME AS no surprise during the latter days of his reign that Doe admitted to the US State Department that his fiscal affairs were out of control and lamented, "I don't know who to trust."
APPOINTING OR RECOMMENDING friends and loved ones to lucrative and key positions are often done without the consideration of those languishing at the bottom of the economic ladder.
DURING THE REIGN of President Ellen Johnson-Sirleaf for example, the arrogance, ineptitude and incompetence of political appointees denied Liberia a few important projects – The Somalia Drive road rehabilitation, the Ganta-Yekepa Road and several scholarships and learning opportunities pledged by foreign governments to Liberia for needy students.
DURING A 2007 VISIT TO LIBERIA, Mr. Lakshmi Mittal, Chief Executive Officers (CEO) of ArcelorMittal(AML), as a birthday gift to former President Ellen Johnson Sirleaf pledged to construct the Ganta-Yekepa road project.
THEN MINISTER Antoinette Weeks, dragged her feet following up on the promise resulting in that project experiencing serious delays.
IT WAS NOT UNTIL June last year that Sirleaf's successor, President George Weah pressed AML management to release US $40m money intended for the project in order to fast track the project.
SIMILARLY, FORMER MINISTER WEEKS was also at the center of another feet-dragging saga when she gave the Japanese government the run around causing serious delays to the start of the Somalia Road project which should have been completed by now.
THE ENERGY SECTOR also endured similar trends when former President Sirleaf was forced to write her then Minister of Lands, Mines & Energy Patrick Sendolo over his stalling of the Mount Barclay Hydro project, urging the former minister to remove bottlenecks keeping the project from taking off.
THE END RESULT, Liberians are today being denied access to affordable electricity all because of the arrogance and ineptitude of a few incompetent officials using their appointed positions to endure hardships of the people of Liberia.
NOW COMES REPORTS of the imminent shutdown of the world's number one global brand, Coca Cola in Liberia.
SINCE 1949, The Liberia Coca-Cola Bottling Company (LCCBC) which produces and markets Bonaqua, Schweppes, Burn, Fanta, Sprite, Coca-Cola, Coca-Cola Light, Coca-Cola Zero at its Liberia plant on the Kakata road, has been a fixture, with its bottling partner Equatorial Coca-Cola Bottling Company.
THE BRAND HAS hundreds of Liberians in its employ and serves more than 6,000 retail outlets. In the last five years alone, the Coca-Cola system has invested more than US $10 million in Liberia.
NOW, IT is being forced to take a bow out of Africa's oldest republic because a few appointed officials have been lackadaisical and adopting an unfriendly business climate for businesses to flourish and profit.
IN THE CASE of Coca Cola, the product is priced in Liberian Dollars to the consumers while all of the ingredients are imported and priced in US Dollars. As a result of the devaluation of the local currency, the profitability is ruined because increasing prices up to cover all of the devaluation is suicidal for any business relying on profits to survive.
ADDITIONALLY, REPORTS of bribery at the Ministry of Commerce and the Freeport of Monrovia are resulting in all kinds of beverages, including Coca Cola rivals, Pepsi and other drinks being allowed in without duty. Those importing such are being allowed to price at or below the price of the locally produced product, which also limits the ability to take prices up.
FRONTPAGEAFRICA has learned that during the reign of ex-President Sirleaf, the government provided some protection against inputs, but that is now all gone.

BY ALLOWING IMPORTED products, the government has put local jobs at risks, losing all the taxes that were being legitimately paid while distributors are also losing out.
THE BOTTOM LINE IS that this is the result of the poorly-managed economy which is why other businesses have and will continue to close.
AS A RESULT, the Coca Cola management has reportedly began having discussions with workers and distributors about the imminent shutdown in Liberia.
PERHAPS if those appointed to positions of power pay more attention to the little details in letters and communications on their desks, Liberia will not be experience what is unfolding today. The likes of Sime Darby, Firestone, Golden Veroleum and a host of companies are experiencing similar trends due to the declining economy.
JUST LAST WEEK, President Weah was forced to pledge his government's commitment to ensuring that all recruitment, employment and payroll management exercises be reverted to the Civil Service Agency and the Ministry of Finance and Development Planning as required by law.
WHEN THE media, critics and Liberians raised these very issues, they were branded enemies of the state as the government insisted on overstepping the function of the Civil Service Agency (CSA) and employing people based on partisanship.
WHEN ONE GROUP of Liberians continue to believe that they are more patriotic than others, when government begins to abide by the laws and the constitution of the republic and not allow a clique or circle of sycophants to decide the fate of an entire nation, perhaps there is still hope for Liberia.
FOR 171 YEARS, Liberia has had to endure hardship, pain and suffering because we have become complacent with mediocrity and allowed ourselves to stand for nothing while falling for everything wrong, to our own detriment.
IN A FEW DAYS, Africa's oldest republic turns 172, repetition of the very ills that has brought us to this point continues to linger and those suffering the most appear content with the way things are while continuing to cry about how bad things are. WHEN WILL we ever learn? Where will the buck finally stop?