Liberia: 'What Is Good For The Goose Is Good For The Gander'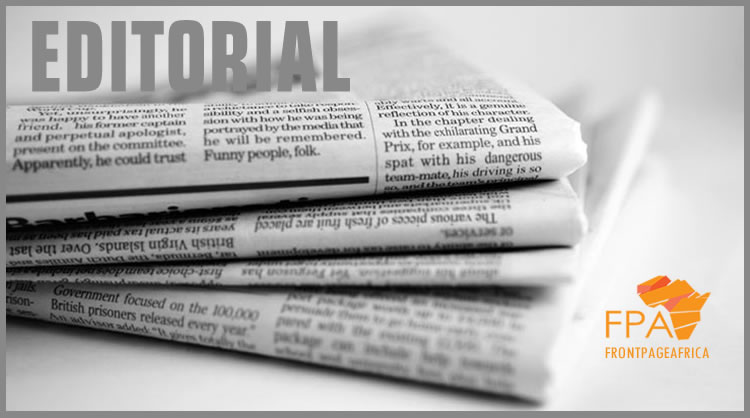 THIS IS A SAYING that our readers probably might have heard many times. Some among those who have heard the above statement, have been left wondering its meaning.
IT IS MEANT TO say that one person or situation should be treated the same way that another person or situation is equally treated.
THIS IS LIKE OUR LORD JESUS CHRIST, in the Bible book of Matthew chapter 7 verse 12, teaching what is known as the 'Golden Rule.' "So in everything, do to others what you would have them do to you, for this sums up the Law and the Prophets."
THIS MORAL LESSON of treating everyone equally under the law, brings us to our editorial for today.
LAST SUNDAY, March 22, Mr. Alexander Benedict Cummings, the opposition political party, Alternative National Congress' (ANC) political leader was quarantined by the Government of Liberia. The ANC had raised concerns over the manner in which their leader was taken into quarantine.
FRONTPAGEAFRICA was told that Mr. Cummings had returned home from a board meeting in Accra, Ghana.
AFTER IT WAS agreed that he was to be self-quarantined, his home was inspected by health officials of the National Public Health Institute of Liberia (NPHIL), to facilitate the process.
HOWEVER, that changed. Mr. Cummings, an opposition to the government, was later picked up and sent to a government-run quarantine center. He even accused the George Weah-led government of politicizing and changing the decision of the healthcare professionals.

HE HAD EXPRESSED that his desire to comply and keep Liberians safe made him agreed to immediately be quarantined at a government-run center.


THE ANC LEADER further said he is fully aware that he nor anyone is above the law and believes in the rule of law. He had, however, also hoped that the government demonstrates the same adherence to the laws/rules with everyone and in every situation.
THIS WASN'T to be so as some legislators made themselves above the law.
ON MONDAY, March 23rd, Representative Samuel G. Kogar of Nimba County's District #5 and some of his colleagues had also come from Accra, Ghana and entered the country through the famous Buutuo in Nimba County.
THE REPRESENTATIVES, including Rep. Francis Dopoe, because they didn't want to be quarantined, chose to travel by road through Ivory Coast and entered Liberia via Buutuo border, which is in Kogar's District #5.
THE LAWMAKERS had left the country through the Roberts International Airport (RIA) for Ghana.
ON TUESDAY, March 24, in Buutuo, Rep. Kogar confirmed that he and others entered Liberia through Buutuo.
"IT IS TRUTH THAT I left the country through the Roberts International Airport for official duties for a week," he said. He added, however, that in Ghana, that country's authorities informed him and others that they were about to shut down their border with other countries so as to help them effectively combat the spread of the 2019 Novel Coronavirus.
ACCORDING TO REP. KOGAR, he and his colleagues got on a chattered car from Accra and entered Ivory Coast even though the border between both nations had already been closed.
ACCORDING TO HIM, in Ivory Coast, they spoke with some senior Ivorian government officials, who were instrumental in allowing them, based also on their positions, to crossover that country's border to enter Liberia through Buutuo.
THE NIMBA COUNTY lawmaker further informed FrontPageAfrica that on the Liberian side of the border, there was no health worker there.
KOGAR AND DOPOE were not the only ones. Dopoe had told this newspaper that also on the trip were Representatives Acarous Gray, Munah Pelham-Youngblood, Edwin Snowe, Suakoko Dennis and Clarence Massaquoi.
NONE OF THESE folks were ever picked up to be quarantined as was done to Cummings and when they all had come from the same destination.
This is not the only double-standard instance in the nation's fight against Covid-19.
ALSO, ON LAST SUNDAY, the Ministry of Health, through Minister Dr. Wilhelmina Jallah declared a State of Health Emergency. Dr. Jallah had listed a number of restrictions, including no gathering of more than 10 persons in very close juxtaposition. On that same Sunday, the Liberia National Police (LNP) Inspector General, Col. Patrick Sudue, had exchanges of words with Senator/Evangelist Prince Y. Johnson. The Police had moved in to stop the worship service of Sen. Johnson's church.
HOWEVER, ON the very next day, Monrovia City Corporation's Mayor Jefferson Koijee gathered a crowd of over 100 persons at the Monrovia City Hall in complete violation of the public health regulations.
"LARGE GATHERING to include sporting activities, party of more than 10 people are hereby order banned, wedding and funerals will be allowed with no more than 10 people in attendance and they should keep a distance of six feet apart from each other at all times," an excerpt from Health Ministry's Emergency states.
BUT THE GATHERING of over a hundred people at the Monrovia City hall on Monday raised new concerns about the regulations not being adhered to by Mayor Koijee, one of President George Weah's key allies.
THE NATIONAL FIGHT against Covid-19 won't be won when we have different treatments for people who are in our camp and another for those outside.
THE MINISTRY OF HEALTH, NPHIL and the LNP need to know that "What Is Good for the Goose Is Good for the Gander."