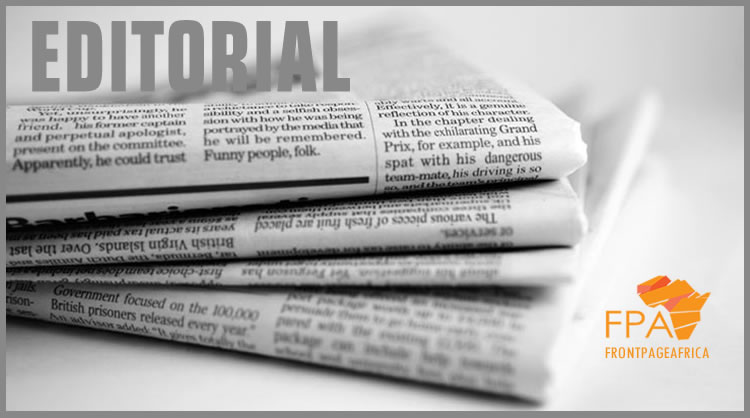 LIBERIA, A NATION that has endured the horrors of brutal civil wars, stands at a crucial crossroads as it strives to maintain peace, unity, and democracy. It is with this solemn responsibility that we call on the opposition Unity Party to speak out and condemn the incendiary remarks of its surrogates, Eugene L. Faghnon and Martin Kollie, which threaten the peace of the country.
---
Joint Editorial by the Daily Observer and FrontPageAfrica
---
IN A RECENT FACEBOOK POST, Faghnon, without providing any evidence, claimed that Major General Prince C. Johnson, the Chief of Staff of the Armed Force of Liberia, had walked out of a joint security meeting, insisting that the votes of the people must be respected as he refused to deploy the military to intimidate citizens.
FAGHNON ALSO called on the Liberian people to take to the streets until election results are announced, invoking international intervention. He wrote, "MAJ. GEN. PRINCE C. JOHNSON WALKS OUT OF JOINT SECURITY MEETING; SAYS THE VOTES OF THE PEOPLE MUST BE RESPECTED; REFUSED TO DEPLOY THE MILITARY TO INTIMIDATE CITIZENS. 'THE PEOPLE ARE RESOLVED. DON'T TEST THEIR PATIENCE. THEY ARE COMING OUTSIDE TOMORROW NATIONWIDE!! THEY WILL REMAIN OUTSIDE UNTIL THE RESULTS ARE ANNOUNCED. USA, WHERE ARE YOU?'"
EQUALLY ALARMING is a post by Martin Kollie, who lives in self-imposed exile. Kollie claims that his preferred candidate (Boakai) has already won the election and warns of violence if the will of the people is questioned. He wrote, "JNB HAS won this election on the first ballot. The election is OVER. Respect the people's WILL. To think that you can overturn it, get ready to face over 1 million people in the Street. We will CHASE y'all." Such sentiments are not only divisive but also potentially dangerous. Kollie also goes on to claim, "After Nimba's 98.68%, GMW is going down. They just had a meeting. They are sending thugs to disrupt and swap tally sheets at SKD, Margibi, Cape Mount, Bong, Bassa. Our team has to be aggressive."
THESE KINDS OF rhetoric, which come amidst heightened tensions, pose a grave threat to the peace and security of millions of Liberians, all for the sake of a routine election. Unfortunately, not a single piece of evidence has been presented to support these threatening statements against the people of Liberia.
WHAT IS EVEN more disheartening is that Faghnon and Kollie are sowing the seeds of potential unrest among Liberians from their comfortable homes in the Diaspora, instead of maintaining a decorum that is fitting for leaders.
As surrogates of the Unity Party, Faghnon and Kollie should know that they have the responsibility of maintaining a healthy political discourse, advancing our democracy, and refraining from reckless and destructive speech that risks pushing our nation toward chaos.
HOWEVER, the responsibility to police these remarks ultimately falls on the shoulders of the Unity Party, which must act decisively to condemn and distance itself from them. The Unity Party, as a significant player in the political landscape, needs to understand that it has a duty to condemn such inflammatory rhetoric and promote a peaceful resolution to any electoral disputes.
THE UNITY PARTY, like many political parties around the world, stands for democracy, inclusivity, and social progress. To live up to these principles, it must show a commitment to respect, tolerance, and the peaceful exchange of ideas. Failing to do so would not only contradict the party's values but also indirectly endorse threatening language against the peace of the country, which is already polarized.
IT IS ALSO ESSENTIAL to remind the Unity Party of its commitment to the Farmington Agreement, signed by various political parties, as a commitment to ensure peaceful electoral processes. The Unity Party must also remember that Liberia is still in the process of recovering from the brutal civil wars that ended two decades ago, claiming the lives of an estimated 250,000 people. The scars of that devastating conflict are still fresh in the minds of many Liberians, and we must not allow our nation to be plunged into another abyss of violence and chaos. To do otherwise would be to undermine the hard-fought progress we have made in building a more inclusive and harmonious Liberia.