Liberia: R.I.P. CPP — Cummings, Urey Must Kiss & Makeup or Walk Away From Collaborating Parties' Alliance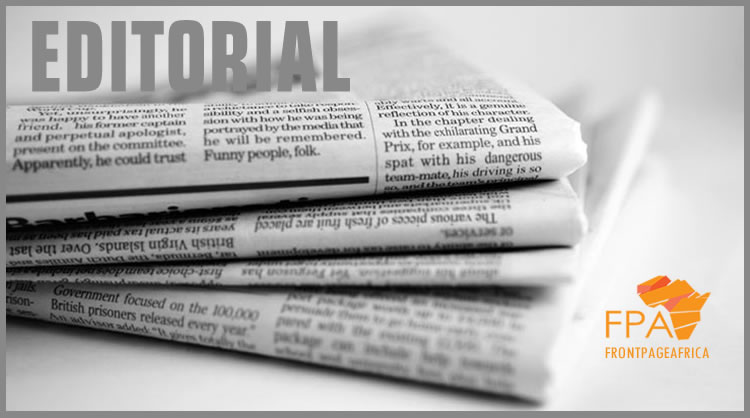 FOR MONTHS now, murmurs of strains within the Collaboration of Political Parties have been in the air, dampening the hopes of many who hailed the February 21st collaborative efforts of four political parties – the former ruling Unity Party, Liberty Party, Alternative National Congress All Liberia Party, as a break from the past efforts that failed to get off the ground.
THOSE MURMURS became evident at the weekend when Mr. Benoni Urey, head of the CPP too to the airwaves of the social media Facebook to throw pointed jabs at Mr. Alexander Cummings, head of the ANC.
MR. UREY DID not mince his words, declaring in a call-in to the online Ramah TV at the weekend, that the ANC leader was not fit to be President owing to his late arrival on the political landscape, expressing his support for former Vice President Joseph Boakai.
SAID THE ALP LEADER: "I want to go first to the former vice president Joe Nyumah Boakai. Look , we must be respectful to our elders. I am a traditional man and we grew up with certain traditions. We always respect our elders; and where we are today, we need people with wisdom, knowledge and understanding of the social, cultural, and economic, the political conditions we find ourselves today. And it's important that we elect a mature person to the presidency. You know people keep making reference to Joe Boakai for being vice president for 12 years and doing nothing; that he was a part of a government and he accomplished nothing; and look, we all participated in government . People usually elect people who have worked in government. You don't elect people who just come from a country and come to another country and want to be president. You elect people based on their experience and based on their reputation. And I think of the 3 candidates, Joe Boakai has the most experience; Joe Boakai has stood the test of time, and he's a relatively decent person."
THE ANC LEADER, in a statement Sunday, expressed grave disappointment in Mr. Urey's attacks, questioning the timing and impact of such a statement at a time when the opposition should be holding together.
MR. CUMMINGS DISMISSED Mr. Urey's assertions that he(Cummings) is deviating from the objectives of the CPP. "Those assertions are far from the truth. When the four (4) political parties agreed to come together on February 21, 2019 and we all affixed our signatures to the document, we decided to work together in a collaboration of independent parties and by 2023, put forth a single ticket for the Presidency in 2023. We also decided to have a rotational chairmanship of six (6) months where each political leader will head the collaboration and manage its activities, with Benoni being the first Chair to lead the CPP. If anything, it is he who is deviating from the plans of the CPP with his failure to give up the chairmanship of the CPP even though his 6-month tenure has expired since August."
MR. CUMMINGS SAID he has supported Mr. Urey as the Chairman of the CPP and offered him his unflinching support during his tenure and even now. "The Alternative National Congress(ANC) wholeheartedly supported the June 7th Save the State Protest and I personally made financial contributions and was on the campaign trail to support his daughter, Telia Urey's quest for the District No. 15 Representative's seat. Additionally, the ANC under my leadership has made numerous concessions and sacrifices in our commitment to the CPP. We have attended every meeting, press conference and made equal financial contributions, if not more to the activities of the CPP. I have done nothing but respect and live up to the objectives for which the CPP was formulated. I have also publicly said that if the CPP selects someone else as standard-bearer through a free, fair process which we are currently formulating, I will support that candidate. For anyone to now try to paint me as something I have never subscribed to in my professional and political life is pathetic, absurd, totally disturbing and raises questions about their motives."
IT IS SAD that the leader of the collaboration has become the first to go public over a spat that has been mired in speculations.
SADLY, what was presented as a promising alliance appears to be in tatters; and what was once hailed by Mr. Urey as a bold Statement of Commitment" and a necessary first step along the path to assuring that Liberia moves forward on the right trajectory is now on the verge of collapse.
WHEN THE FOUR PARTIES decided to come together on February, 21, 2019, they claimed that they were all convinced that a fair, transparent and competitive democratic process is vital to Liberia's long-term prosperity and security and while recognizing the role of political parties as indispensable partners in national development and the strengthening of our young democracy and aware of the weight and strength of political leaders' collaborative and collective opinions on matters of national leadership, the rule of law, and accountability, as pillars of good governance, they were coming together to form a united front, in hopes of breaking away from the frailties of previous efforts that went nowhere.
ON THAT FATEFUL day in February, all four political party heads spoke confidently about a vision for Liberia.
MR. UREY IN PARTICULAR, trumpeted the signing as the beginning of the process of the unity that have been craved for years. "We have decided to put Liberia first and to attune our political agenda in the interest of Liberia and the Liberian people; and above our individual and partisan ambitions. We are taking the bold and concrete step which we hope will never be reversed or undone."
MR. CUMMINGS was in full agreement then, acknowledging: "We understand the disappointment and frustration this decision will cause Simeon and his family, our partisans and sympathizers; but call on all of you to accept this sacrifice for the sake of the country.
IT WAS A UNITED show of force by a group that had been branded "enemies of the state", "assassins" , and more. But even then, they were all in agreement that they would not be affected by antics.
SADLY, what was presented as a promising alliance appears to be in tatters; and what was once hailed by Mr. Urey as a bold Statement of Commitment" and a necessary first step along the path to assuring that Liberia moves forward on the right trajectory is now on the verge of collapse.
BOTH MR. CUMMINGS and Mr. Urey have a simple choice: Sit at the table and squash out whatever differences keeping them apart or simply walk away from the collaboration and stop wasting time and energy of those supporting their cause.
IN 2017 ELECTIONS, a total of 446,716 votes for 28.8 percent of the votes went to Boakai; Brumskine of the Liberty Party secured 149,495 of the votes for 9.6 percent; Cummings of the ANC secured 112,067 for 7.2 percent of the votes and Mr. Urey secured 24,246 for 1.6 percent of the votes.
WHILE THE DYNAMICS are unlikely to be the same in six years, those looking to unseat the current government need to put aside their egos, distrusts and resentment of each other – and put their acts together or risk falling in the same boat as the opposition of yesteryears, singing the same old refrain and lyrics that is becoming as archaic as the sands of times.