For Being Inept, Why Haven't Heads Started To Roll Yet, Mr President?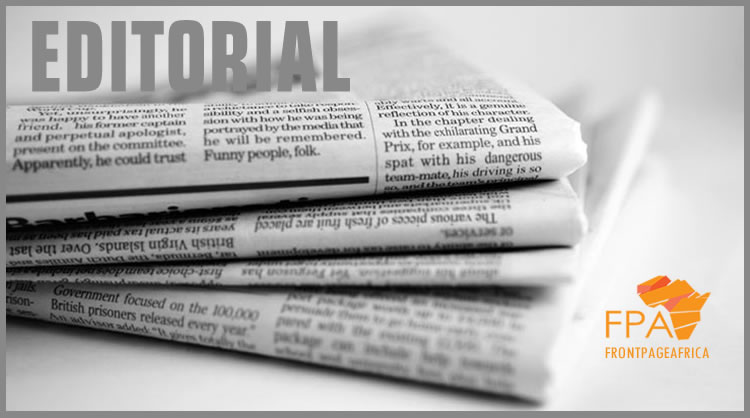 INARGUABLY Mr. President, if you continue to carry on with things like this until the finished line, especially as it relates to you taking decisive actions against some of your lieutenants, it is going to be marked negatively against you when your legacy is being graded.
MR. PRESIDENT, you are aware that this gasoline shortage has now reached a crisis proportion nationwide. It is now a national security threat!
THIS CRISIS HAS been a long time coming and could have since been totally avoided but because of the ineptness of those you put in charge, the whole nation is now in deep mess.
THIS ACUTE GASOLINE shortage across the country has compelled ordinary Liberians, including commercial vehicle operators, to spend countless hours at filling stations just to get few gallons.
MR. PRESIDENT when this crisis began to show its ugly head about a month ago, two of the main custodians handling this petroleum sector, traded stupid accusations.
WHAT IS EVEN so annoying, President George Weah, your lieutenants refused to admit and your administration was in total denial that there is a shortage of gasoline on the market. Instead, they kept saying that gasoline was still in the country to service the needs of consumers. Where is the "enough" gasoline? Do you see the very long queues that are formed at various or the few re-filling stations that are now serving the public, intermittently? Mr. President does it even make you angry, just a few yards from your official residence, to see Liberians and their vehicles in these long queues struggling to get served few gallons of gasoline?
THIS NEWSPAPER is sure as heaven that you have heard how transportation fares have tripled. Even the prices of goods and other services have all skyrocketed. In addition to this nightmare, the exchange rate between the United States Dollar and its Liberian Dollar counterpart is again rising unprecedentedly.
YOU CAN'T BE SEEN as being led, Mr. President. IF you have been too relaxed, you need to wake up now, adjust your "pro-poor" suits, dust yourself down and begin to LEAD.
WE ARE AFRAID that if you don't "put your foot down hard," the nation is going to have, in the next couple of weeks, shortages in other goods such as rice, cement, fuel, and fish. The whole economy might just collapse under your watch.
MR. PRESIDENT, it's because of your apparent indecision, the opposition bloc is going to capitalize and score some good points against your administration.
IN THEIR PRESS STATEMENT on Wednesday, February 12, the opposition Alternative National Congress (ANC) stated, "We are compelled to note that despite raging public alarms, the ruling CDC-led government continued until recently to deny the then looming shortage, which has now culminated into a national crisis spiraling the already struggling economy downward.
"NOTWITHSTANDING this national concern that has and continues to negatively impact the already worsening-living conditions of the Liberian people, we note sadly that the President of Liberia delivered his State of the Nation's Address, without at least acknowledging the looming national crisis at the time, which borders on clear incompetence on the part of public officials. As if the President's failure to mention the then looming gasoline shortage during the SONA was not enough, yesterday he had the opportunity to and did address the nation on Armed Forces Day, February 11, 2020, and once again neglected to mention, let alone tell the people how his government is planning to address the problem. This callous silence in the face of serious difficulty confronting the general populace, is tantamount to his tacit approval of the level of incompetence exhibited by officials of his government."
MR. ALEXANDER BENEDICT Cummings and his ANC are right, Mr. President. You don't seem to be leading.
After Enduring This nightmare for nearly a month without any remedy, the LPRC has estimated this crisis to last for 10 -14 days. Another major player in the whole saga, has estimated that it would take at least three to five weeks for the dredging of the port so that large tankers can be able to berth. This is an excuse of weaklings.
MR. PRESIDENT, the current acute shortage of gasoline on the market, has and is having serious negative impacts on access to education, health, livelihood, as well as, the national security of the county, and it demands a corresponding attention from you. We haven't seen any such response from you yet.
WE ARE AFRAID that if you don't "put your foot down hard," the nation is going to have, in the next couple of weeks, shortages in other goods such as rice, cement, fuel, and fish. The whole economy might just collapse under your watch.
LIKE THE ANC has said, Mr. President, Liberians do not have two or whatever weeks to wait for this crisis to be over. The heads of the National Port Authority (NPA), the Minister of Commerce and Industry and the head of the Liberia Petroleum Refining Company (LPRC) need to roll now. It's so strange that heads have not yet rolled. You need to be seen as being in charge.