CYRENIUS CEPHUS: A SOLICITOR GENERAL DESIGNATE WITH A DANGEROUS CHIP ON HIS SHOULDER, MUST NOT BE CONFIRMED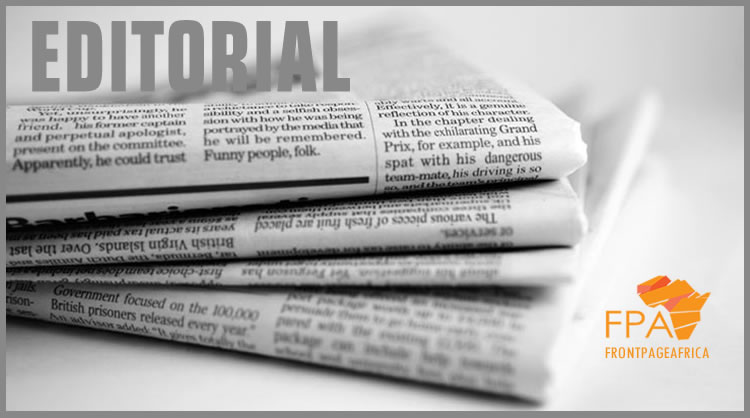 LAST MONTH, President George Manneh Weah relieved Solicitor General, Daku Mulbah of his post and brought in Cllr. Sayma Syrenius Cephas, previously the Deputy Minister-Regional Development at the Ministry of Agriculture and the Legal Counsel of the ruling Coalition for Democratic Change as his replacement.
CLLR. CEPHUS, most recently, was the lead lawyer for the House of Representatives in the impeachment saga of former Associate Justice Kabineh J'aneh.
CLLR. CEPHUS, a former journalist, who once represented former President Ellen Johnson-Sirleaf, ironically, was imprisoned and torture while in jail after his newspaper, publishing a story of that said, former President Sirleaf's government allegedly sent arms and ammunition to dissident groups in Guinea to overthrow the then Head of State, Captain Moussa Dada Kamara.
AMONG HIS CLAIM to infamy, he was suspended by the Supreme Court of Liberia from practicing law for three months – from April 7, 2015 to July 7, 2015 for what the court believes was misconduct while representing his client.
THIS WEEK, the designate Solicitor General is drawing himself in a line of fire after an appearance on OK FM Monday during which he threatened to "go after" individuals who make accusation against government officials, saying there's a distinction between "free speech and free lies".
APPEARING ON THE station, Cllr. Cephus defended his comments by stating that the government wants to "decriminalize" public offices by the courts to deter derogatory comments.
SAID CLLR. CEPHUS: "To be able to decriminalize that we have to have a system in place, you would have the platform will have to ensure that the manner he makes that kind of statement, you say no, no, no… that part of your social responsibility – that part of your contribution to the process."
THE LAWYER'S COMMENTS come just days after President Weah threatened to go after Liberians who rain insults against the President.
LAST THURSDAY, President Weah, while dedicated a new market in Duport Road Paynesville threatened "those that constantly threatening the states, constantly inciting people. "I want to be clear; we will not tolerate those kinds of citizens. Those that constantly insulting the President, I want to be clear; after this, there will be no citizens in this country, I can defy you that will ever insult the President and think you will walk on the streets freely."
EVEN BEFORE HIS confirmation by the Senate Committee on Judiciary, Cllr. Cephus is raising eyebrows. For example, he has been aggressively pursuing an arrest of Montserrado County District 9 Representative, Yekeh Kolubah for what the government calls, alleged terroristic threat and criminal facilitation while doing very little to do the same to Rep. Acarous Moses Gray, accuse of a similar act.
REP. KOLUBAH HAS been charged for allegedly ordering the flogging and torturing of a resident of his district. Police say six suspects were picked up on June 5, 2019, upon a distress call for a victim who Police respondents met lying under a market table opposite Rep. Kolubah's house naked, handcuffed, with wounds on his head and bruises on his body. The victim, who was allegedly tortured and flogged allegedly by Rep. Kolubah's personal bodyguards in a bleeding condition, was immediately rushed to the John F. Kennedy Hospital for admittance and medical treatment.
IRONICALLY, District 8 lawmaker, Rep. Gray was invited by the police last week for his alleged involvement in the flogging of Boye Cooper, a businessman in the district after a confrontation between the two.
BOYE, THE OWNER of a night club on 9th Street, had alleged that Rep. Gray instructed his bodyguards to beat him up after the two had had an exchange of words on Rep. Gray's threat to close down his night club. He further alleged that Rep. Gray stepped and broke the glass door of his night club where he had run for safety after they started beating on him. However, in an interview with FrontPageAfrica, Rep. Gray claimed that he, as a Representative of the District, had received several complaints from the residents of 9th Street that the night club played loud music up till 4:00 am from Tuesday to Sunday every week.
LATE MONDAY, FPA learned from multiple sources that the designated SG has been threatening insurance companies not to support bond for University of Liberia students arrested last week and Rep. Korlubah.
THERE'S NOTHING MORE dangerous in a modern democracy than a having a lawyer like Cllr. Cephus, making utterances that threatens Liberia's post-war stability while resurrecting some bad omen from the country's ugly past.
CLLR. CEPHUS and his likes should instead by advising President Weah that such draconian stance does not bode well for the government's image.
LIBERIA HAS passed the stage and no president or official of government should ever in this modern age subject its citizens to anything resembling Decree 88A.
THE DECREE DECLARED ON July 21, 1984, gave security forces the power to "arrest and detain any person found spreading rumors, lies, and misinformation against any government official or individual either by mouth, writing or by public broadcast".
IT IS SAD that Cllr. Cephus, who has been designated to such an important position is playing dumb to the fact that Article 2 (1) of the 1986 Constitution erased the Decree 88A from the books. Article 2 states: "Any laws, treaties, statutes, decrees, customs and regulations found to be inconsistent with it shall, to the extent of the inconsistency, be void and of no legal effect. The Supreme Court, pursuant to its power of judicial review, is empowered to declare any inconsistent laws unconstitutional."

LIBERIA WAS engulfed in a bloody civil war not just because of greed and corruption but because of officials like Cephus and a government currently pursuing this ugly path.
LIBERIA WENT to war because many felt disenfranchised by a style of government that maimed, assaulted and killed critics under the cloud of darkness.
IN THE PAST year, we have seen a lot of secret and unexplained deaths. We can expect more if Cllr. Cephus continues the path he is treading and if President Weah and his government continue to embark on a trek down Liberia's bad memory lane.
SADLY, LIBERIA LACKS a strong legislature and judiciary and Senators likely to decide Cllr. Cephus fate are more than likely to look the other way and ignore the early warning signs of what is to come.
THIS HAS BEEN LIBERIA'S story – a recurring nightmare of bad dreams eclipsed by a circle of impunity that just keeps on lingering. The sad reality is that the poor will continue to suffer and those languishing at the bottom of the economic ladder will continue to perish because the price of justice is just too high for them to afford and because Liberia keeps giving people like Cllr. Cephus license to walk around with a dangerous chip on their shoulders as if they have learned nothing from their own experiences – and that of a nation seemingly cursed to damnation.